Homemade body scrub is the best skin care you can give to your body, and you can do it right now! All essential ingredients are waiting in your kitchen or bathroom cupboard. Learn why body scrub always makes a good idea and what benefits your skin will receive. See the recipes for the best natural scrubs.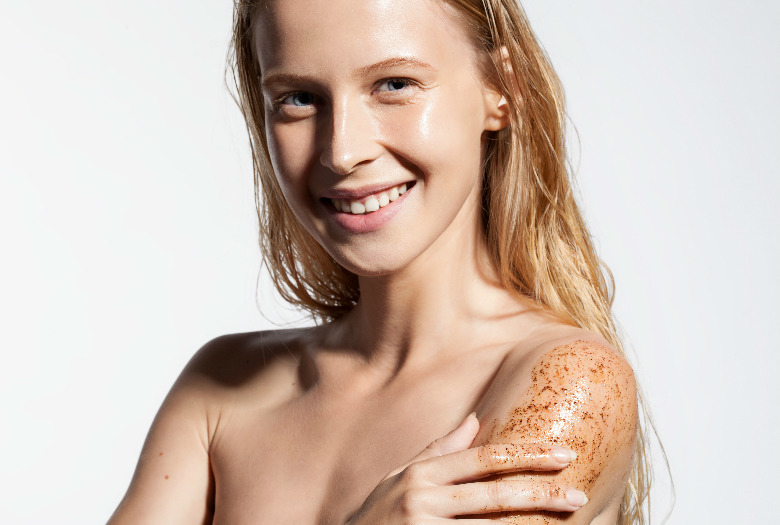 Why should you use homemade body scrubs?
A body scrub exfoliates dead skin cells so it uncovers "brand-new" skin, restoring smoothness, plumpness and freshness. Regular use of scrubs helps you get rid of cellulite, gives a slimming effect, reduces stretch marks and hyperpigmentation, eliminates skin blemishes and simply makes the body look better.
At the same time, a scrub isn't some kind of advanced treatment, you can do it yourself! At home, using widely-available products. With a scrub you make the most of your skin care and deliver the most valuable active ingredients. A homemade exfoliant is free from synthetics that could cause allergic reaction or irritations.
Homemade body scrub – benefits
it improves skin tone
it exfoliates dead skin cells, smoothes out the body
it stimulates blood flow, improves metabolism
it aids in eliminating cellulite
it makes skin more absorbent
it makes aging process slower
How to make a natural body scrub?
Making it takes literally a moment. It's really easy, you just mix two or more ingredients (e.g. sugar and natural oil) to get a beauty product that works wonders. See the best natural body scrubs to enjoy super-smooth skin without cellulite and blemishes.
DIY – natural body scrub – recipes
All scrubs are made using the same way: you mix all ingredients, choosing the right amounts to create a paste that doesn't run down the skin. You smooth the scrub over the body and massage it in for a few minutes. Take a look at the best combination of ingredients:
Homemade Sugar Body Scrub
cup of white or brown sugar
2 spoons of castor oil
1 spoon of argan oil
2-3 drops of essential oil
Homemade Salt Body Scrub
1/2 cup of sea salt
1/2 cup of almond oil
1 spoon of ground lemon or lime peel
a few finely-chopped mint leaves
Homemade Anti-Cellulite Coffee Body Scrub
1/2 cup of coffee grounds
2-3 spoons of brown sugar
1 spoon of argan oil
2-3 drops of grapefruit essential oil
What is the best time for doing a body scrub?
Nobody tells you to use a scrub at a specific hour but you should remember that the skin has the biggest repair potential at night, making the most of ingredients from skin care products. That is why you should use the body scrub before sleep.
Similarly to other products, regularity matters in the case of body scrubs as well. To get desired effects, use your natural scrub at least once a week. Remember also to moisturize the skin after that to create an occlusive coat and lock moisture inside the skin. You can use a game-changing trick, namely, rub a natural oil or butter into damp skin to give it an extra portion of nutrients, vitamins and phytosterols.