The Hairdresser's Top Trend – ColorCuts Highlighting Foam Strips, a hack for perfect colouring!
Hair colouring is the most popular treatment in hair salons. Women dream of beautiful highlights, baleyage, flambayage, ombre, sombre… There are many techniques of layered colouring, but they all have one thing in common: colouring strips. They are the bane of hairdressers: the aluminium foil is impractical and slippery, it rips and overheats. That's why the ColorCuts brand has released the innovative Highlighting Foam Strips. Meet the eco-friendly foam strips that can multiply your hair salon's profits. How is this possible?
Highlighting Foam Strips – for an easy application
Every hairdresser knows there is nothing worse than impractical accessories for colouring or hair styling. Colouring strips that don't want to stick, slip off the hair and can't be applied right to the scalp are a history. ColorCuts provides modern solutions to your salon. Highlighting Foam Strips are making a splash in many countries as they are amazingly easy to apply: simply place the foam strip under a section of hair and fold it in half – it sticks together and doesn't slip out of the hair. It's easy to place at the roots and even if you're new to layered colouring – these foam strips can make you become a master!
Baleyage, ombre and highlights in an instant
Highlighting Foam Strips are so quick to apply that the whole colouring time can be cut in half! The foam strips reduce colouring time, so you can take on more clients in a day and perform more great colouring! This, of course, provides more profit to your salon. You should also know that these strips are economical like no other: you can reuse them! Just wash them and you're done! This means that instead of 200 strips in one box, you actually get around 800 or even 1000!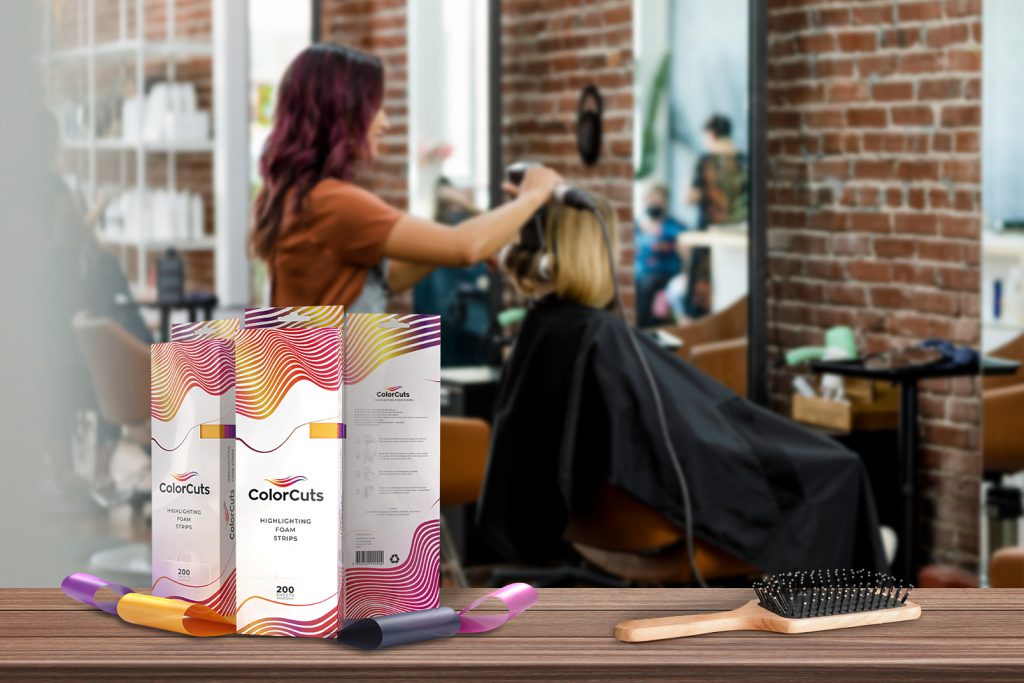 Color Cuts – a range for environment-friendly hair salons!
Did you know that Highlighting Foam Strips are made from recyclable and biodegradable foam? It's the perfect option for anyone who cares about our planet, and we believe your clients will also appreciate the fact that ColorCuts foam strips are safe for the environment, and that their elegant ombre or sombre hasn't added to the amount of plastic that litters the planet.
Enhance the prestige of your salon! Choose ColorCuts strips if you wish to:
positively surprise your clients,
improve your salon's aesthetics,
invest in a product that can multiply your salon's profits,
go green,
colour the hair faster and easier,
condition your clients' hair.
Show your clients they are equally important to you as the environment – take control of hair colouring in tune with sustainability. Try out the Highlighting Foam Strips from the Maltese brand ColorCuts!