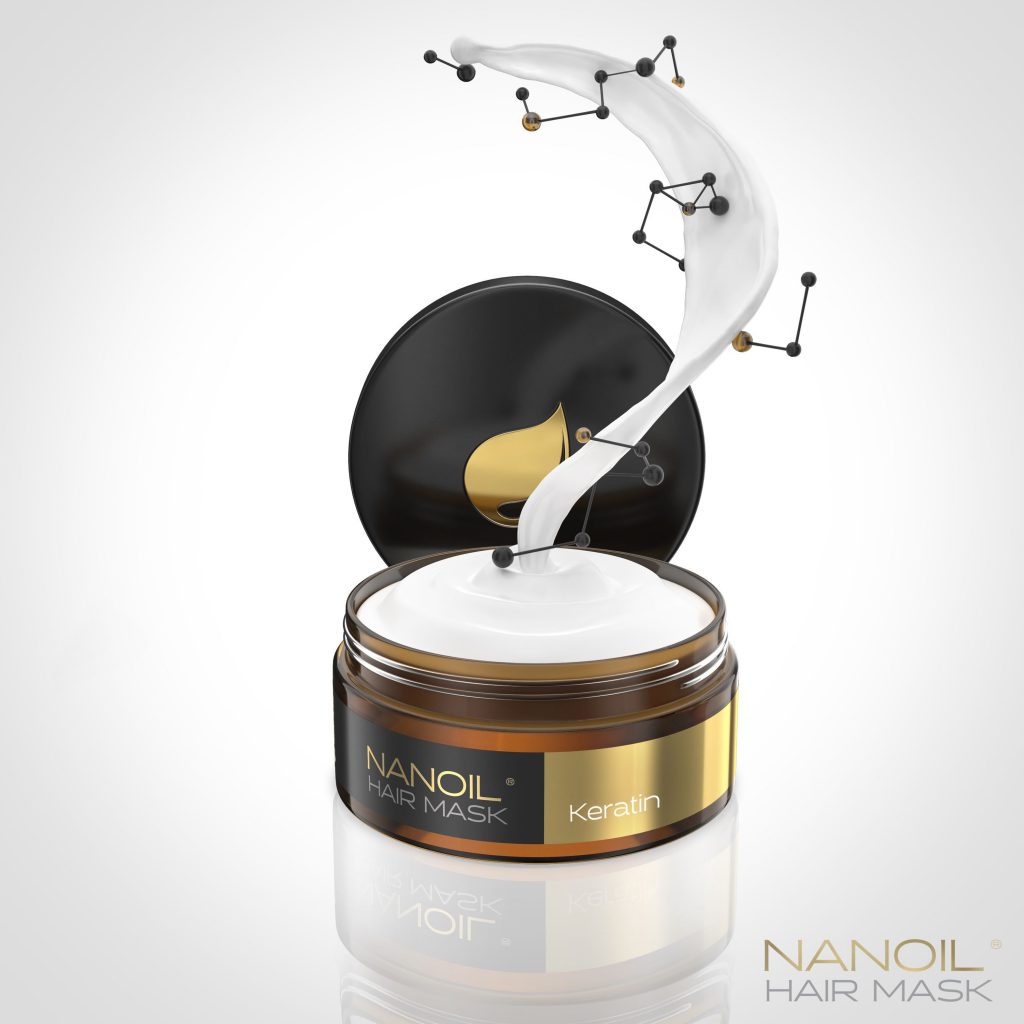 Do you know the secret of lovely hair? Hairdressers see eye to eye: it is keratin. Say goodbye to split ends, breakage and frizz. You can care for your hair like a pro. Try Nanoil Keratin Hair Mask.
Many women think that lovely hair is only achievable with regular salon treatments. They couldn't be more wrong. Obviously, trimming the ends is essential but conditioning the hair can be successful at home as well. You just need suitable products. Ideally, products that professionals swear by. Nanoil keratin hair mask is an example and a brilliant substitute for keratin smoothing treatment at the salon.

Nanoil masks: the power of nature for your hair!
Nanoil first launched hair oil treatments. The brand decided to go for other nature-inspired substances such as keratin. This very protein is the main ingredient in a Nanoil mask designed for damaged hair. It instantly won women's hearts and took the cosmetics market by storm. Is it the secret to healthy, pretty hair? It is because hair is made from keratin. Its deficit quickly affects the hair, therefore, delivering keratin to hair is the easiest way to make it stronger. Using a Nanoil keratin mask and other keratin-rich products by Nanoil is the best way to do that.
Benefits of Nanoil Keratin Hair Mask
Apart from being rich in keratin, the Nanoil repair mask has some other benefits. Above all else, it is extremely lightweight and you can notice that after just one use as it controls frizz, smoothes hair, not weighing it down, and makes it easier to detangle. The real magic happens later on because a few uses of the Nanoil Keratin Hair Mask really:
fixes damage in hair structures.
strengthens and prevents hair ends from splitting.
enhances follicles to keep hair from falling out in excess.
restores health, smoothness, and shine of hair.
protects against mechanical damage.
repairs the hair quickly and effectively, making it look lovely again.
What ingredients are there in the Nanoil Keratin Hair Mask?
Hands down, the performance of the mask is its biggest asset but it isn't the only reason why hairstylists recommend it. The formula has been devised to tenderly care for hair and that is why it's free from harmful parabens, phthalates or mineral oil. It contains silicones which are lightweight, non-overburdening and easily washed out; they protect the hair against damage and make it easier to style.
Still, keratin is the key ingredient and Nanoil uses only the best form of it, that is hydrolyzed keratin: it has smaller particles so it can get more deeply and work better. The addition of panthenol (provitamin B5) gives a truly simple formula giving the hair all it needs.
Reviews are the best description of the Nanoil mask!
This is the best mask for damaged hair, that's for sure. Because it contains the hair-building protein, the mask has a minimal number of ingredients but is maximally effective. Women love it because it leaves a smooth coating on the hair and is very easy to use: you just apply a portion of the mask after washing, wait for fifteen minutes, and rinse well. The mask works from the first use and will last you for a couple of months when used regularly. This is like the best salon treatment that lets you care for hair like a pro. All this for a good price. Nicely-packaged, miracle-working Nanoil masks don't cost much.