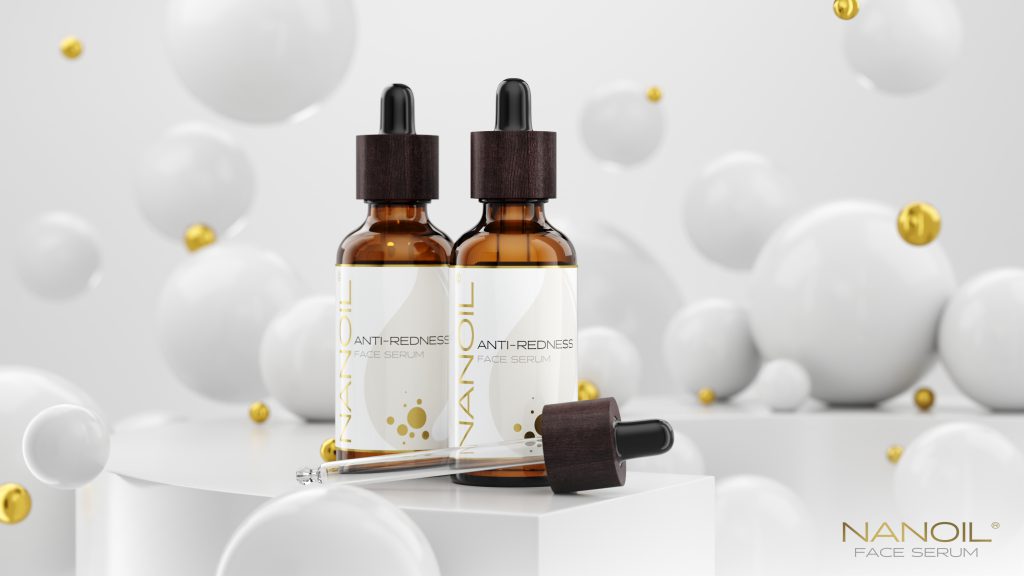 Many people's biggest gripe is their easily irritated skin. The reasons why skin shows abnormally high sensitivity to stimuli are numerous, but luckily there is one solution to handle all of them – Nanoil Anti-Redness Face Serum.
Would you describe your skin as sensitive or redness-prone? Then you must try out the formula enriched with plant extracts that soothes and takes good care of reactive skin. Give your face what it really needs and relieve yourself from this uncomfortable feeling of tight skin, dryness and prickling.
Nanoil serum to treat spider veins
This is a lightweight water-based cosmetic that combines the highest quality plant extracts with vitamins. Vitamin B3 and chestnut bark extract together strengthen and seal the walls of blood vessels. Linden tree, cypress and Indian plants extracts offer another range of benefits, including protection from free radicals. All of this is closed in a fast-absorbing serum that was created minding the needs of sensitive skin prone to irritation and spider veins.
Ingredients in Nanoil Anti-Redness serum
What are the above-mentioned extracts in charge of? Each one of them plays a crucial role. Just look
Chestnut bark extract reinforces the walls of blood vessels.
Linden extract has an anti-inflammatory effect and soothes irritations.
Punarnava extract preserves the youthful appearance and keeps skin healthy-looking.
Cypress cone extract revitalizes, nourishes and protects.
Only four ingredients but how multi-tasking they are to make Nanoil Anti-Redness Face Serum a product able to handle so many skin concerns. This is a vegan cosmetic free from parabens, phthalates, mineral oils or artificial colorants – to minimize the risk of skin irritation.
What are the benefits of Nanoil serum?
The benefits of using Nanoil Anti-Redness Face Serum are bigger than just supplying the skin with the valuable plant extracts. First of all, the serum reduces and prevents irritation. It also reduces the appearance of broken blood vessels, spots and redness. Another huge plus to mention is that apart from being an advanced skincare product targeting all sensitive skin concerns, Nanoil face serum is also a regular serum for daily beauty routine that moisturizes, nourishes, smoothes, protects and leaves skin glowing. Simply put, it does everything that most users expect from a good face serum to do.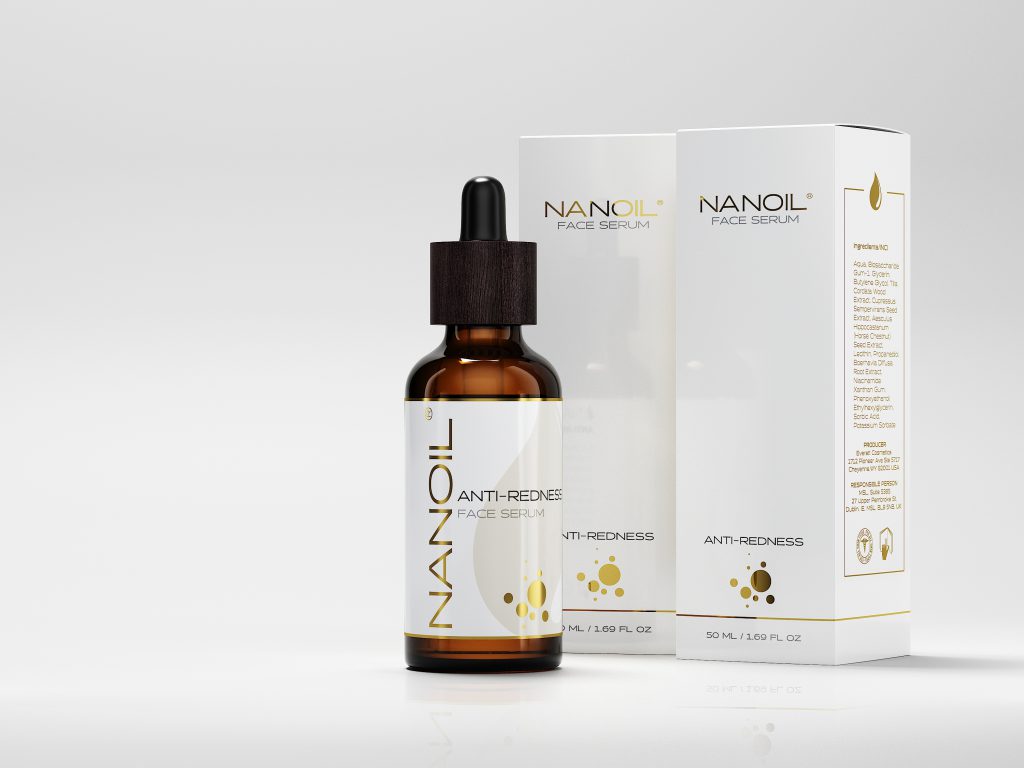 Easy 3-step use
It's also worth realizing that Nanoil Anti-Redness Face Serum is suitable for everyone. No matter how much time you spend on your daily skin routine, whether it's difficult for you to get a moment for yourself on a hectic day, or whether you have a little more time than others – you will always find time to use Nanoil Serum. How so? Because it's only 3 simple steps.
Remove makeup and cleanse your face as usual.
Apply a portion of the serum and massage the face with your fingers.
Wait until your skin absorbs the serum and apply a face cream.
Finished. The only thing left for you to do is to enjoy the first effects of the Nanoil treatment and wait impatiently for what the serum is yet to bring.