Maybelline Great Lash is one of those mascaras, which every girl should have in her vanity bag. Why? Because it fulfils expectations of even the most demanding women and makes every eye make-up look effective and beautiful.
Maybelline Great Lash provides extremely good effects. Firstly, darkens lashes, but also adds length, thickens and curls them. Your eyes will look bigger and the look from under long black lashes – more mysterious. Secondly, mascara lasts longer on lashes. Only after 10h of wearing mascara will start smudging and leaving black spots on the lower eyelid. It is particularly noticeable on oily and combination skin. Thirdly, Maybelline Great Lash mascara dries right after application. That is why you can administer another layers of cosmetic right a way. Thickened this way lashes look beautiful. Fourthly, product does not cause neither eye nor skin irritations. It can be freely used by people with sensitive eyes and skin prone to allergies. Fifthly, this cosmetic doesn't consist of any fragrances in its composition. Sixthly, it removes very easily even with ordinary make-up remover.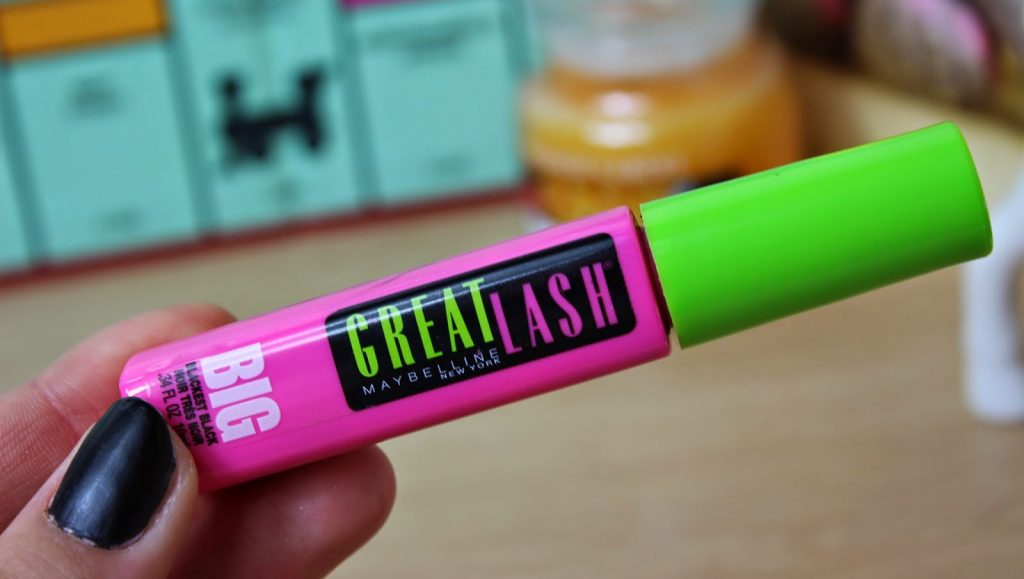 Nevertheless, Maybelline Great Lash has also few flaws. People who never used mascara can have a problem with its application. Product this can clump lashes together and ruin net result. In this case you need to use clean brush from old mascara or small comb to comb out lashes. Such a "game" in make-up can spoil all the fun. What is more, brush in this mascara is very small, which in general makes make-up much harder. It takes to much of product on it and make reaching small lashes extremely difficult.
Maybelline Great Lash is locked in pink – celadon packaging. It is available in six shades: dark blue, brown, green, pink, violet and emerald.